Smoking ceremonies have been used by ancient and traditional cultures around the world for thousands of years. Healers, shamans and spiritual practitioners have cleansed and healed their people with sacred rituals using smoke in a variety of forms ~ such as sweat  lodges, smudging and smoking pipes.
Many religions also engage in a Smoking Ceremony before prayer; Catholics burn frankincense and myrrh, Muslims burn bakhoor, Hindus burn benzoin incense, and Buddhist, Pagan, Shinto(1) and Taoist devotees all use forms of smoke to aid prayer and connect with their deities and spirits.
Creating a Smoking Ceremony at home is a deeply spiritual practice that you can engage in as often as you choose. It can increase wellness, deepen your psychic powers, banish negativity, and invoke dreaming and astral travelling.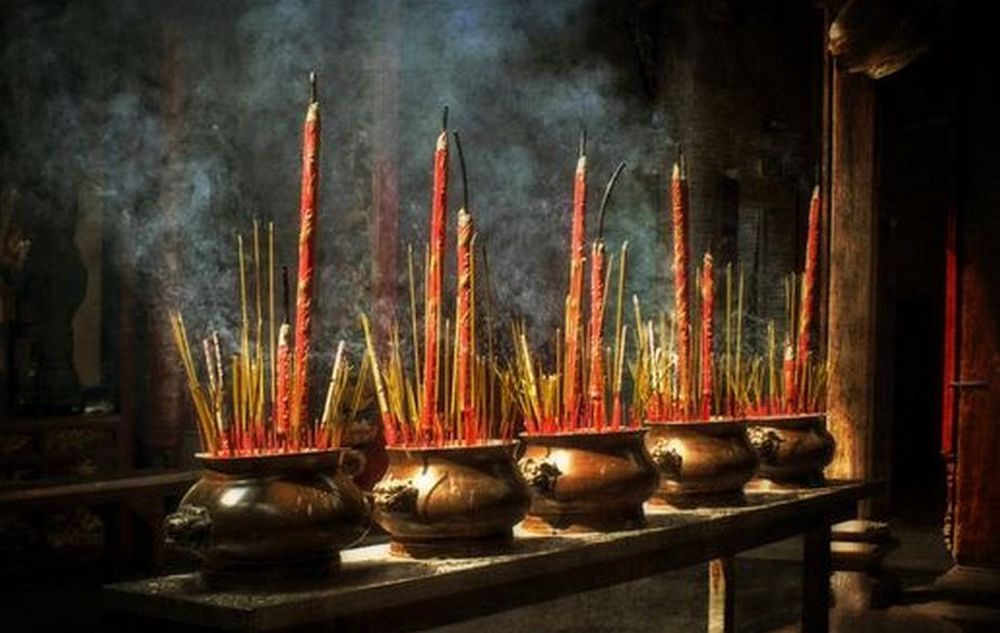 It also releases your thoughts, emotions, invocations, and prayer, out into the ether, connecting you to the spirit world and universal energy.
Preparation for your Smoking Ceremony
Start with choosing a sacred space for your Smoking Ceremony; any room or nook that feels special to you where you won't be disturbed. If you wish, you can set up an altar with candles, stones, crystals, beads, bells, images, flowers, whatever is meaningful to you.
You will need either a smudging stick; incense; or, a charcoal burner, charcoals, and herbs or resin(2). You will also need matches or a lit candle. You can if you want to, add a feather to fan the smoke (although your hand is just fine).
The type of herb, resin or incense you choose for your Smoking Ceremony is the essence of the practice.
White Sage is often used for its potent healing and purifying properties (the word sage literally means 'to heal').
Cedar cleanses, helps to banish negative energies and disturbing dreams, aids clairvoyance, and carries good intentions out into the universe. It blends perfectly with sage.
Sweetgrass purifies, increases positive energy, and it too, pairs wonderfully with sage.
Lavender is for peace and serenity, and like cedar, carries your gratitude or invocations out to the universe.
Eucalyptus is sacred to the Australian aboriginals and is used to cleanse, and promote overall health, but in particular all ailments of the lungs, including grief.
Rosemary is wonderful for clarity, focus, and memory.
Mugwort

(3)

is for health and hope. It banishes bad spirits, balances emotions, and aids dreaming and astral tavelling.
Tobacco soothes the nervous system, releases your thoughts to the ether, and acts as an enhancer to whatever other herbs you use.
Tea is wonderful for creating calm, alertness and focus within your moment.
Frankincense and myrrh are often burned together for their balance, and to enhance meditation and spiritual connection.
Sandalwood encourages psychic growth, and like frankincense and myrrh, enhances meditation.
Dragon's blood

(4)

is for love, nourishment, and protection.
Smoking Ceremony
Set your intention, and invite your body, mind and spirit to be totally present.
Light your smudge stick, incense or charcoal.
When your flame is properly alight (around 5 seconds for the incense and 15-20 seconds for the smudge stick or charcoal) blow out the flame to start the smoke. Add herbs or resin to the charcoal if that is what you are using.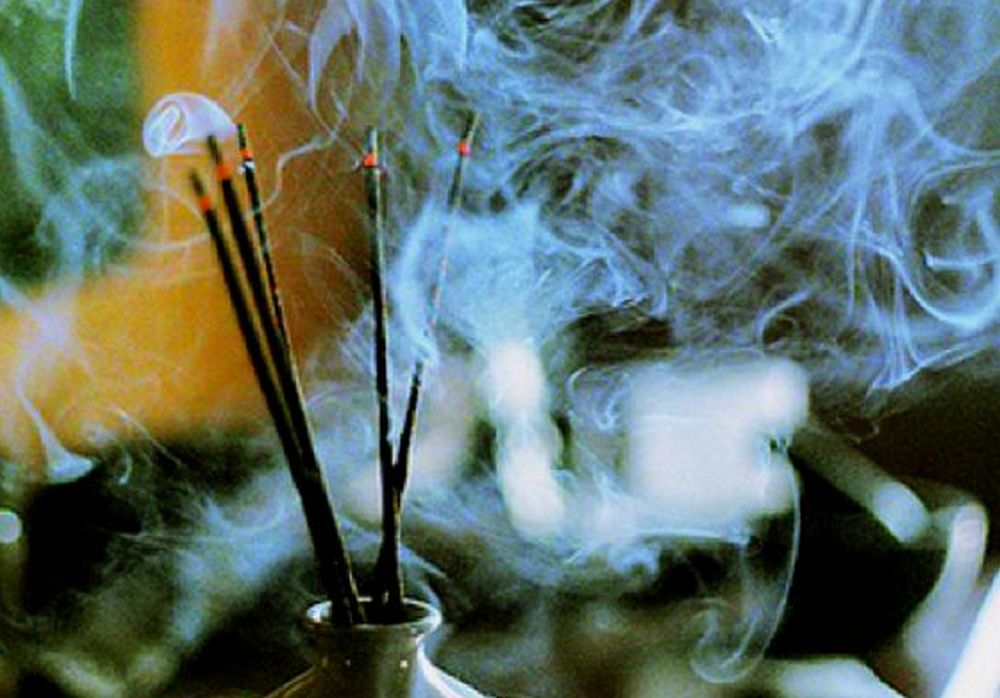 Bath yourself in the smoke, starting from your head. Circle the smudge stick slowly around you, all the way down to your feet. Or if using a charcoal and resin, cup the smoke in your hands and 'wash' yourself with it.
Use your feather or hand to fan the smoke throughout the room.
Sit quietly in a comfortable position, connect with the smoke, allow it to banish your negative energy, fill you with positive energy, and open your mind and spirit to all that is out there.
Stay with the smoke and the energy for as long as you wish.
When you have finished, extinguish the stick or charcoal.
Take the ashes outside and scatter them on to the earth, holding on to your intention as you do so, grounding yourself back into your day.
A Smoking Ceremony is a powerful practice. The herbs used are a gift from Mother Nature. The aroma, smoke, healing properties of the plants burnt, and the depth you go into, have the ability to connect you to the infinite… may your spirit travel with joy, protection and love. ~ GreenWitch Tea
Please note: I do not offer this information as instruction, only as information. Always check with your health practitioner before you try any new herb, especially if you are ingesting it. If you are not sure, do not use it.
Also note: as you are inhaling the smoke, I strongly urge you to use pure, natural, organic herbs, incense and resins.
(1) Shinto (2) How to use charcoals
(3) Mugwort (4) Dragon's blood